Tuesday, October 11, 2016
| by Room207 at 11:32 PM
Download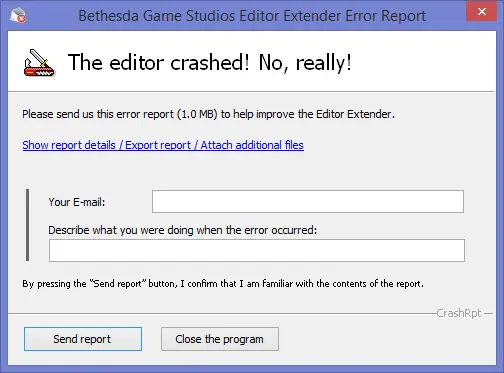 Oblivion's Construction Set Extender is a wonderful tool, but conflicts with the d3d9.dll coming with the ENBseries and with a bunch of other OBSE plugins may lead to annoying crashes and bugs. In most cases the editor won't even start due to an error that terminates it instantly. Since I was tired to manually copy/rename all problematic files each time I had to use the CSE, I made this simple batch file that does the job for you in a second.

INSTALLATION
- Extract CSE ENB Launcher.bat to your Oblivion's root folder (where Oblivion.exe is);
- for your convenience, create a shortcut on your desktop or elswhere (in my case it's in the start screen);
- When you want to launch the CSE double click CSE ENB Launcher.bat, or the shortcut pointing to it, to mass rename d3d9.dll and all files in your Data\OBSE\Plugins\ folder except Construction Set Extender.dll and Construction Set Extender.ini. The program will start automatically;
- After closing the editor and before launching the game, click it again to revert the changes.

Please notice that the batch file checks for the presence of the d3d9.dll in your Oblivion's root folder before starting renaming other files so it won't change anything if ENB is not installed.
0 Comments: